MARTA History
MARTA, an acronym for Metropolitan Atlanta Rapid Transit Authority, has created a powerful influence on Atlanta's history and its economics. To see how MARTA got to serve nearly 400,000 passengers a day and became the eighth-largest transit system in the United States (Georgia Encyclopedia), we must travel back to the early 1960s, where it all began.
New Railcar Design 2022 MARTA Event [1]
During the redevelopment of downtown Atlanta, a rapid-rail system was initialized. The formulation of a rail system in Atlanta was dismissed by studies in 1967, signifying bus systems would serve better than a more expensive rail system. Two years later, another study explained that "rapid rail did not make sense economically because of Atlanta's low population density" (Keating, pg. 113). However, the plans for a rapid rail system persisted due to the city leaders wanting to make Atlanta a modern big city and pushing that it would draw high-density development to the stations.
Unbeknownst to the people planning the rail, the train transportation would be infiltrated with politics on every step they would take. The first taste of conflict with getting MARTA built was during Ivan Allen Jr years as mayor of Atlanta.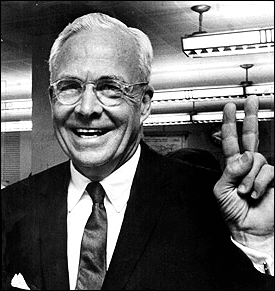 Ivan Allen Jr., 1965 [2]
Before his action as mayor, Allen was the Atlanta Chamber of Commerce president and helped vision the rail transit system. He proposed a six-point program for the city's growth and development due to "Atlanta's impending transportation crisis, and it distinguishes the city from its regional peers" (Georgia Encyclopedia). A rapid rail system referendum was created to add to ballots of certain counties. However, it failed in 1968 due to opposition from black political leaders as they felt that the rail service favored white areas more than black areas. White leaders eventually reached out to the black community, and through workmanship, they created a biracial coalition that ended up making MARTA from an idea to reality (Keating, pg. 114).
Once the rail system construction was in motion, San Francisco's Area Rapid Transit was used as a model, and consulting firms from that project were hired to work on MARTA. The rail system went through many construction phases, and it all came together in 1971 through counties' support from Dekalb and Fulton. However, some counties, such as Gwinnett and Clayton, didn't want to participate due to the predominantly white suburban counties thinking the link from the rail would bring large numbers of blacks into their community (Keating, pg. 128). Because of this, the core transit system of Atlanta only focused on two counties (Fulton and DeKalb) for nearly 40 years up until 2014, leading to MARTA not living up to city leaders' vision of making Atlanta an economically booming city (Bruns, pg. 38).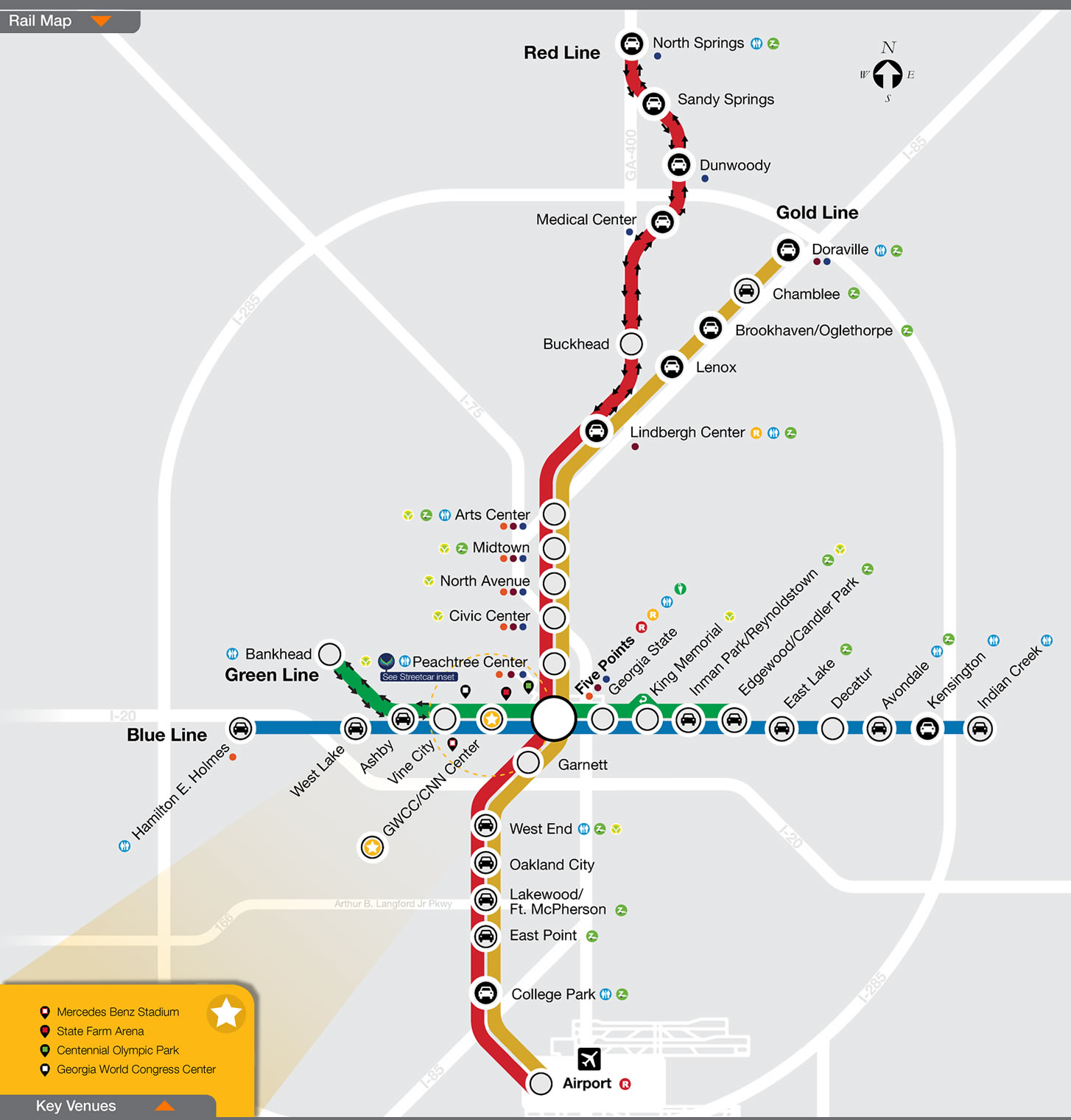 MARTA Train station locations [3]
Moving to the present, in 2022, Atlanta has eventually grown to be a high-density area serving more than 6 million people and is the ninth-largest metropolitan area in the U.S. (Bruns, pg. 35). Most of this boom in population is caused by the anticipated growth of the region's business expansion and economics. MARTA's opportunity to contribute to the economy is now tremendous, as even Metro Atlanta's Regional Transportation Plan (RTP) sees MARTA's potential by including $11 billion for new transit options (Bruns, pg. 38).
Economic development impact
MARTA has extensively grown in its contribution to Georgia's economics by driving in $2.6 billion in economic activity every year (Murchison, The Patch). It has a customer net worth of $1.4 billion who ride on the trains every weekday (itsMARTA). The amount of money MARTA brings into the city motivates businesses to want to build their company there.
Infrastructure + New Businesses:
MARTA promotes growth in 14 of Atlanta's fastest-growing industries, such as Mercedes Benz, NCR, and Hartsfield-Jackson Atlanta International Airport (itsMARTA).
MARTA train going through Downtown [4]
These companies are located close to MARTA and are one of these companies' decision factors to relocate to those areas. This is shown with Veritiv, a relatively new addition to the Fortune 500 list, which picked Sandy Springs partly because it was convenient to access MARTA (Saporta, Saporta Report). The airport's direct connection to MARTA is beneficial to visitors and businesses since it brings people to where they are vacationing in the city, such as the downtown hotels that are immediately adjacent to the north-south line. These rewards help the Atlanta economy and power the city to negotiate with hungry contractors.
Education System
Schools in Metro Atlanta and the surrounding community partner with MARTA to provide students with safe and reliable transportation. Marta is located on main school lines like Georgia State, Georgia Tech, Emory, and metro Atlanta grade schools. These schools even cite that MARTA is an accessible use of transportation for students (DCSD). MARTA also has a university program that gives incentives such as their unlimited ride pass for a discounted rate to students and schools (itsMARTA). This allows students to learn about Atlanta and see the complete aspects of the city through the rail system's connections to schools, shopping, work, and entertainment. These connections allow students to feel at home and eventually make Atlanta their permanent home. This makes for an excellent investment for the city by keeping the university students staying in Atlanta after school and using their skills to build the town up.
Public Safety:
MARTA has taken giant steps to make their trains safe and keep the greater of Atlanta safe by contracting their MARTA patrols to help other parts of Atlanta that don't evolve MARTA. For example, the MARTA Police Department deployed more than 300 officers and handled more than 2 million people during the 1996 Atlanta Olympics (IACPtv), which helped put Atlanta on the national map. Through these public safety contributions, MARTA has supported its city's economy using digital technologies. It helps society through "direct spending, indirect improvements in supply chains, benefits to worker productivity, and gains in national competitiveness" (West & Dan), allowing Atlanta to thrive. This is seen by A study conducted by the American Public Transportation Association that found that being in an accident decreases by more than 90 percent when taking public transit instead of driving (Zanona, The Hill).
Another public safety MARTA does is keep gas emissions down and keep the environment safe. The need for a clean and healthy environment is an inevitable stage of economic development (Steven & Guo, pg. 3). Public transit is a solution to creating a sustainable city with the least possible impact from the human settlement on the environment. This has been seen in MARTA through their stance during the COVID-19 pandemic. They enforced mask mandates and promoted public health through posters on how to stay safe.
MARTA poster for Covid-19 regulations [5]
Due to homelessness increasing because of the pandemic and the shortage of affordable housing, MARTA established a Partnership with HOPE (Homeless Outreach and Proactive Engagement) to create MARTA HOPE during the pandemic to aid more than 4,452 individuals who have taken refuge at the train stations to receive help (Spencer, 11Alive).
Throughout The 55+ Years of MARTA, How Has The State of Georgia Partnership Evolved?
MARTA is funded primarily through federal grants, fares, and a sales tax. However, despite all the economic stability rapid transit brings, MARTA is the only major mass transit system in the county that does not receive state support (Johnston, Saporta Report). This was due to Georgia's interest in investing in powerful highways instead. The highway system took billions of dollars while the state refused to put a penny into MARTA (Doug, Atlanta Magazine). Progress toward a financing method stalled, with only the sales and income taxes left as options to fund the urban transit system. To combat this delay, the "Atlanta Plan" for transit financing was born in 1968. One of the first times in the United States that a political decision was made to subsidize transit up-front, without any intent that farebox revenue pays for all operations (UGA). Unfortunately, the highways were not made coherently nor planned for the future, leading to massive transportation issues with highway congestion and the environment being harmed by cars. Currently, there is a strain on transportation in Georgia, and it is up to the state to realize the benefits of MARTA and start investing in the rail system.
Conclusion
MARTA has contributed to many of Atlanta's economic success through improving the city's infrastructure, education system, public safety, and attracting new businesses. With all MARTA's accomplishments with the city, the state of Georgia is reaping the benefits of this transit system. However, it has not contributed to its growth by providing funding or support. In another area, MARTA faces a lack of support in the suburbs, and it is essential to see how the choice not to have a train in their county has negatively affected them economically. Georgia should look at MARTA as a public service such as schools and fire departments. Not everyone uses it, but everyone pays to provide for it due to its overall achievement of boosting the community's living status. The history of MARTA shows that when you have visionary leaders and when communities work together for the advancement of all citizens, everyone in the State of Georgia will benefit. The next unknown in MARTA's history is will the Atlanta Metropolitan area have leaders to take MARTA to the next level?
References
Bruns, Tim. 2021. "PREPARING FOR GROWTH: How the Metro Atlanta Region Is Planning for Transportation over the next Three Decades." Roads & Bridges 59 (6): 34–38.
DCSD. "Schools Served by (MARTA)." DeKalb County School District, March 27, 2020. https://www.dekalbschoolsga.org/schools-served-by-marta/.
Doug Monroe. "Where It All Went Wrong." Atlanta Magazine, March 18, 2019. https://www.atlantamagazine.com/great-reads/marta-tsplost-transportation/.
Georgia Encyclopedia. "Metropolitan Atlanta Rapid Transit Authority." DBpedia.
IACPtv. "Marta Police in Atlanta, Georgia, Work with TSA to Keep … – Youtube." MARTA Police in Atlanta, Georgia, Work with TSA to Keep Transit Safe
Johnston, Teresa. "A Marta Story: Why the State Never Contributed Funding – from Day One." SaportaReport, December 22, 2014.
Keating, Larry. Atlanta: Race, Class, and Urban Expansion. Philadelphia: Temple Univ. Press, 2001.
Murchison, Adrianne. "Study: MARTA Generates Jobs and $2.6 Billion in Economic Activity Yearly." Sandy Springs, GA Patch. Patch, January 9, 2013. https://patch.com/georgia/sandysprings/study-marta-generates-jobs-and-26-billion-in-economic67ea037142.
Saporta, Maria. "Marta – a Jewel in Metro Atlanta's Economic Development Future." SaportaReport
Spencer, Author: Sydney. "How a MARTA Program Helps Unsheltered Individuals in Atlanta." 11Alive.com, April 13, 2022.
Steven Cohen, and Guo Dong. 2021. The Sustainable City. Vol. Second edition. New York: Columbia University Press.
UGA, " Mass Transit Management: Case Studies of the Metropolitan Atlanta Rapid Transit Authority" IV, no. 1 (March 1, 1981).
West, Darrell M., and Dan Bernstein. "Benefits and Best Practices of Safe City Innovation." Brookings. Brookings,
Zanona, Melanie. "Safety Advocates Eye Public Transportation as Way to Reduce Traffic Deaths." The Hill. The Hill, September 7, 2016.
Images:
[1] Brown, Author: Jessica. "Marta Unveils Design for More than 250 of Its New Railcars." 11Alive.com, January 12, 2022.
[2] "Ivan Allen Jr. – New Georgia Encyclopedia."
[3] Marta.
[4] "Metropolitan Atlanta Rapid Transit Authority." Wikipedia. Wikimedia Foundation.
[5] Marta. "Marta to Restore Bus Routes Suspended Due to Covid-19." SaportaReport, April 5, 2021.