Genetics:
Zaire Ebola also known as EBOV, it is composed of helical RNA strand wrapped and includes many fundamental and regulatory proteins that comprising VP35, VP30, nucleoprotein and protein L in the capsid. Protein L utilizes VP30 and VP35 as cofactors that help catalyze transcription of the viral RNA along with cytosol of the host cell. The capsid is studded with 10nm spikes of viral glycoproteins and surrounded by an envelope acquired from the host cells of plasma membrane.
The figure below is an excellent example of the structure: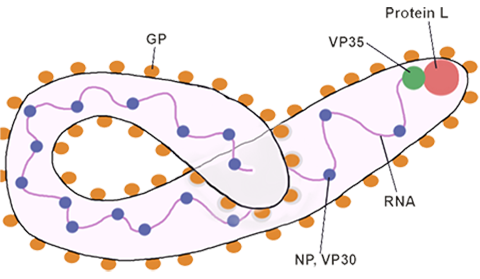 The VP35 protein is very important for the viral RNA polymerase complex. It is also important for the function to antagonize the cellular type I interferon response, and it does so by blocking the activation of the transcription factor IRF-3.
Pathogenicity:
Zaire Ebola virus can cause a very high lethal hemorrhagic fever syndrome in animals and humans. The fast progression of the disease increases complication for the control of the disease. It is very dangerous and fatal but it is not significantly contagious.
History:
Some historical background of the virus is that it was identified in the Ebola River valley during an outbreak in 1976. Statistically the outbreaks have caused mortality rates to increase from 50% to 90%. Many primary known cases were in Africa in villages and tropical rainforests. The cases of Ebola were imported into Nigeria, Senegal, Spain, Italy, Mali, USA and the UK.
Here is an overview of the locations in Africa: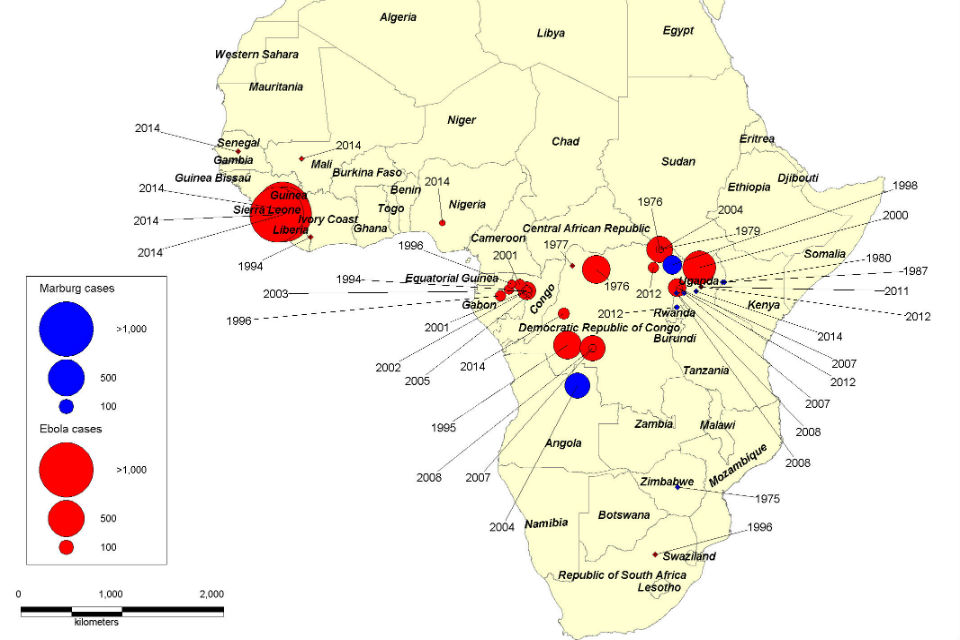 Facts:
When a person is recovered from the Ebola Virus, it is known to stay in semen for about 3 months.
A known cure or vaccine does not exist for the virus.
The virus can destroy those liver cells that produce proteins required for coagulating the blood.
Here is a video that talks about the vaccination for the virus:
http://<iframe width="560″ height="315″ src="https://www.youtube.com/embed/74LrBt1_-wY" frameborder="0″ allow="autoplay; encrypted-media" allowfullscreen></iframe>
Another video give more insight into how the virus affects your body:
http://<iframe width="560″ height="315″ src="https://www.youtube.com/embed/sRv19gkZ4E0″ frameborder="0″ allow="autoplay; encrypted-media" allowfullscreen></iframe>
Swetha, Rayapadi G. et al. " Ebolavirus Database: Gene and Protein Information Resource for Ebolaviruses." Advances in Bioinformatics 2016 (2016): 1673284. PMC. Web. 23 Apr. 2018.
2. Gary P. Kobinger, Anders Leung, James Neufeld, Jason S. Richardson, Darryl Falzarano, Greg Smith, Kevin Tierney, Ami Patel, Hana M. Weingartl; Replication, Pathogenicity, Shedding, and Transmission of Zaire ebolavirus in Pigs, The Journal of Infectious Diseases, Volume 204, Issue 2, 15 July 2011, Pages 200–208, https://doi.org/10.1093/infdis/jir077
3. Baize, S., E. M. Leroy, M.-C. Georges-Courbot, M. Capron, J. Lansoud-Soukate, P. Debre, S. P. Fisher-Hoch, J. B. McCormick, and A. J. Georges. 1999. Defective humoral responses and extensive intravascular apoptosis are associated with fatal outcome in Ebola virus-infected patients. Nat. Med. 5:423-426.
4. <iframe width="560″ height="315″ src="https://www.youtube.com/embed/74LrBt1_-wY" frameborder="0″ allow="autoplay; encrypted-media" allowfullscreen></iframe>
5.<iframe width="560″ height="315″ src="https://www.youtube.com/embed/sRv19gkZ4E0″ frameborder="0″ allow="autoplay; encrypted-media" allowfullscreen></iframe>